Looking forward to Prague
In the last few years, to my amazement and delight, I've become a best seller in the Czech Republic. Next month I shall be visiting Prague to meet some of the publishing team at Grada CZ, who have helped make this possible. Another great contributor to my success is artist Katerina Brabcova (find her @brabikate on Instagram) who creates the beautiful hand painted front covers for my Czech translations. I swear each new one is my favourite. Until the next one!
Cosy Cottage in Ireland – the Czech Republic version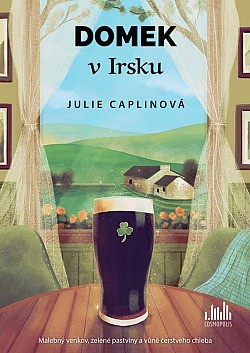 The cover for the Czech edition of The Cosy Cottage in Ireland is no exception. Once again she's absolutely captured the spirit of the book, right down to the pint of Guinness in the foreground. The Czech edition was published last month and I'm looking forward to seeing it on the shelves when I visit. It tickles me that the Czechs refer to me as Julie Caplinova – which I like think makes me sound rather glamorous!
Starring Fungie the Dolphin
So far, readers have been very complimentary about this book, which pleases me no end. It's one of my favourites.  I had a very memorable research trip to Ireland just before Covid hit in the November of 2019. My travelling companion and brilliant research assistant was my dear friend Alison. She was the one that insisted that we went out on a boat trip in Dingle Bay to see 'Fungie'. If you haven't heard of him, Fungie the dolphin appeared in the Bay over thirty years ago. He's been entertaining visitors ever since.
It's very unusual for dolphins to live alone. It's believed that he was separated from his pod and ended up staying in the Bay. Boat trips promise that if you don't see him while you're out on the water, they'll refund the ticket price. To my absolute amazement, he not only appeared by played alongside the boat. It quickly became apparent this was a regular routine. Very few refunds need to be paid out.
Magical Ireland
My visit to Ireland was a truly magical trip. I knew when I came home, I had to include a scene with the dolphin in the book.  Sadly, since I visited Kerry in 2019, Fungie the dolphin has vanished; it's probable that he died of old age. You can see a little clip here of him in action. https://www.youtube.com/watch?v=qEO9m-Xip8I
I love finding out these little quirks about a country and including them in my books, which is why research trips are so valuable.  Perhaps during my trip to Prague I'll be inspired to set a book in this part of the world.